To enhance the capability of our primary water source, the Rio Grande, to better serve our region well into the future.
The Rio Grande Regional Water Authority was created by the Texas Legislature in 2003 as a conservation and reclamation district 'to serve a public use and benefit' by bringing together regional water interests to accomplish projects and services within Willacy, Cameron, Hidalgo, Starr, Zapata, and Webb Counties (Excluding the City of Laredo).
The Authority was specifically created to supplement -Not replace- the services, regulatory powers, and authority of irrigation districts, water development supply corporations, counties, municipalities, and other political subdivisions within its borders.
The RGRWA operates in accordance with established operating guidelines, including by-laws. All RGRWA meetings are open to the public and provide opportunity for public comment.
Congressman Vela and Senator Cornyn Sent a Letter to IBWC Commissioner Edward Drusina Urging Swift Action be taken to Ensure Mexico Complies with its Water Treaty Obligations

WASHINGTON, D.C. – Pursuant to a 1944 Treaty, Mexico is required to deliver average annual allotments of water to the Rio Grande Valley.
Mexico has continually failed to set aside adequate amounts of water to comply with its treaty obligations…
Click here to read the full letter.
The RGVP hosted a press release for PROP 6
Water Texas PAC is a strong bipartisan coalition of legislators working to promote passage of Proposition 6 on the November ballot. We understand that a lack of water impacts all Texans, and the cost of doing nothing is too great for our citizens, economy, our children, and grandchildren.
"The importance of funding the State Water Plan to Texas cannot be overstated,"said Rep. Lucio. "Proposition 6 will fund water projects in Texas aiding in the water supply over the next 50 years."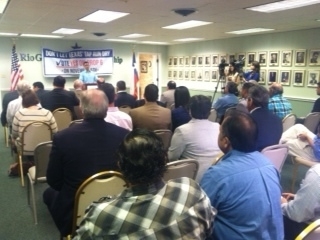 A delegation from the Rio Grande Valley went to Washington D.C. to discuss the 1944 water treaty
WASHINGTON – U.S. Senator John Cornyn and U.S. Representative Filemon Vela today hosted a meeting with various elected officials and stakeholders from the Rio Grande Valley, including State Representative Eddie Lucio III,Texas Water Development Board Chairman Carlos Rubinstein, and Rio Grande Valley Partnership President/CEO Julian Alvarez, to discuss joint efforts to address Mexico's failure to uphold its water obligations and eliminate the deficit owed to the U.S.
Click here for the full article.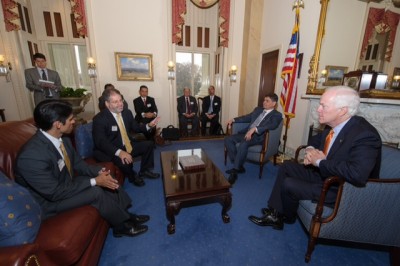 Visit with Congresman Mike Conaway
Sept. 16, 2013 – Congressman Mike Conaway visited with us to discuss our water shortage issue. Those in attendance were representatives from Irrigation Districts, Farmers, Produce Companies, Rio Grande Regional Water Authority, City of McAllen, City of Weslaco, Office of Congressman Henry Cuellar, Office of Senator Ted Cruz, Office of Senator John Cornyn and Representative Eddie Lucio, III.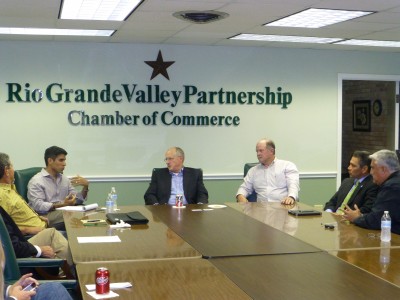 Diverse Interests Unanimously Support Need For Regionalized Water Solutions
Community leaders from across South Texas unanimously agree at a meeting in Weslaco on Monday, July 8, that critical short- and long-term water supply needs in the region warrant a new, comprehensive water initiative.
After hearing from a who's who of regional and state leaders in water issues, more than 100 representatives of agricultural, municipal, industrial, business, and environmental interests from Brownsville to Laredo raised their hands in unanimous support for a united effort to seek and find regionalized water supply solutions.