Founded in 1986, the Border Trade Alliance (BTA) is a grassroots, non-profit organization that serves as a forum for participants to address key issues affecting trade, travel and security in North America. Working with entities in Canada, Mexico, and the United States, the BTA advocates on behalf of policies and initiatives designed to improve border affairs and trade relations among the three nations.
BTA is North America's premier authority on issues affecting the U.S. northern and southern borders, representing a large grassroots network of over 4.2 million public and private sector representatives, including business leaders, chambers of commerce and industry, academic institutions, economic development corporations, industrial parks, transport companies, customs brokers, defense companies, manufacturers and state and local government agencies.
For more information please visit www.thebta.org
Alvarez: BTA conference in Mexico City was a great success
MEXICO CITY, August 18 – The Border Trade Alliance in conjunction with event producer MexicoNow last week held a conference in Mexico City attended by over 500 professionals and government officials involved in cross-border trade.
The Aug. 7 conference featured presentations and panel discussions on all facets of the U.S.-Mexico
cross-border commerce relationship, including border crossing processes, the latest in maquiladoras and border region infrastructure.
Click here to read full article on the Rio Grande Guardian.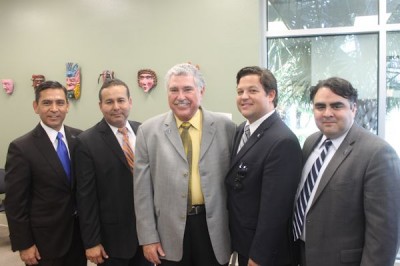 'Border surge' almost overkill? Forget almost, it is overkill, says BTA
McALLEN, July 5 – A top border business group has strongly criticized the so-called "border surge" provision in the Senate immigration reform legislation.
The Border Trade Alliance is unhappy that manpower for Border Patrol (the men in green) has been increased enormously in S.744 while manpower for Customs and Border Protection (the men and women in blue) has not.
The BTA says it likes this provision. "While each land border port of entry in this country has its own unique needs, improved staffing is a constant," the BTA states. "Bringing more CBP officers online will go far not only in enhancing our interdiction capabilities at the ports, but it will also provide an economic stimulus by reducing the hours-long backups experienced at our busiest ports that slow trade, increase costs and stifle our competitiveness".
Pictured are members of the BTA board with U.S. Senator Ted Cruz in his Washington office.
Around the table: Julian Alvarez from the Rio Grande Valley Partnership, Miguel Perez from Ryder, Lee Snitzer from DELPHI, Nelson Baildo, Bret Erickson from Texas International ProduceAssociation, Fred Schwien from Boeing, Russ Jones from RL Jones Custombrokers, and Jesse Hereford from S&B.