The Alliance for I-69 Texas is a coalition made up of cites, counties, port authorities and community leaders building grassroots support for upgrading the entire Interstate 69 route in Texas.  Members of the Alliance for I-69 Texas have conducted a sustained campaign to have existing highways improved to interstate highway standard along US 59, US 77 and US 281.  For more information, please visit http://i69texasalliance.com.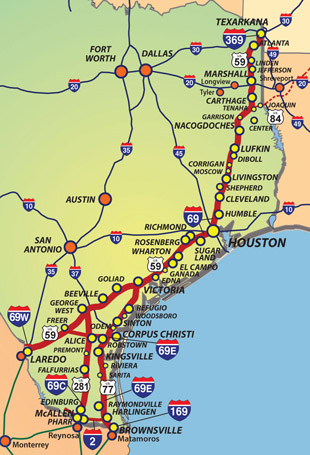 I-69 Unveiling Ceremony
I-69 MAKES HISTORY IN RIO GRANDE VALLEY AS SOUTH TEXAS' FIRST INTERSTATE HIGHWAY
July 15, 2013 – Please click here to see the Press Release from Texas Deparment of Transportation.
Click here to see the celebrations.  Thank you KGBT Action 4 News and Valleycentral.com for providing the video.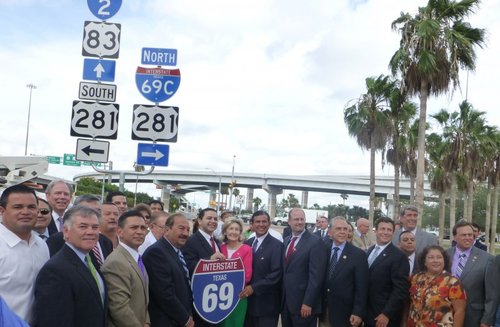 Valley Celebrates Success in 20 Year Quest for I-69
Signing ceremonies in Harlingen and Pharr plus a joy filled celebrationluncheon in Mercedes on July 15th marked the fact that in a singleday every major community in the Lower Rio Grande Valley became the proud hostof an interstate highway.
The four Valley counties had a 2010 population of more than1.2 million and are continuing to grow rapidly.   When taken together with the adjoining cities across the Rio Grande, thesprawling metropolitan area has a population of nearly 2.5 million – about thesame as Dallas County.  The Valley is nolonger the largest urbanized area in the nation more than 10 miles from thenearest interstate highway.  For more information, please click here.
Cornyn Statement on Expansion of I-69
AUSTIN – U.S. Senator John Cornyn (R-TX) issued the following statement after the Texas Transportation Commission voted to approve adding new highway segments to Interstate 69:
"I'm pleased to hear that I-69 will be expanded with new highway segments, and I'd like to thank the Texas Transportation Commission, the Federal Highway Administration, and South Texas elected officials and community leaders for their work in making this a reality.
"With Texas ranked as one of the best states in job growth, these types of innovations are critical for making sure Texas continues to be the best place to work and live.  I look forward to taking advantage of these expanded roadways during my travels in South Texas.'
Senator Cornyn serves on the Finance and Judiciary Committees.  He serves as the top Republican on the Judiciary Committee's Immigration, Refugees and Border Security subcommittee. He served previously as Texas Attorney General, Texas Supreme Court Justice, and Bexar County District Judge.
Another 116 Miles Added to Interstate 69 System in Texas
AUSTIN – The Texas Transportation Commission today gave final approval to designation of an additional 116 miles of freeway in South Texas and Northeast Texas as part of the Interstate 69 system.  The Federal Highway Administration approved the four highway sections last week.
The newly designated interstate sections mean a total of 186 miles of the I-69 route that have been added to the Interstate System in the past two years.
"This is a landmark day in the 20-year effort to make I-69 a reality in Texas," said John Thompson, Alliance board chairman. "It is the result of a sustained local, state and federal cooperative effort.  Community leaders along the I-69 route have relentlessly pursued this goal because they know that moving people and freight efficiently is vital to our economy and our quality of life."
Transportation Commission action means that for the first time the large population centers in the Lower Rio Grande Valley will be served by the Interstate Highway System.  Three Valley highways are now interstates.
US 77 through Cameron and Willacy Counties will be signed as Interstate 69 East.  This includes 52 miles of existing freeway starting at the Rio Grande in Brownsville and running north past Raymondville.
The 13 miles of US 281 freeway in Pharr and Edinburg will be signed as Interstate 69 Central, a designation that will eventually extend northward all the way to George West.
The east-west US 83 freeway that connects more than a dozen Valley cities has been designated as Interstate 2.  It extends approximately 46 miles from Harlingen to west of Mission.  US 83 was not designated by Congress as part of I-69 but the Alliance for I-69 Texas and community leaders have insisted over the years that it should be considered an interstate connector between the legs of I-69.
The Lower Rio Grande Valley interstate highway designations were made possible by the passage of milestone federal legislation championed by the Alliance for I-69 Texas over a period of several years and passed in 2012 as part of MAP-21.  The effort led by Congressmen Blake Farenthold and Ruben Hinojosa and Senators Kay Bailey Hutchison and John Cornyn, and co-sponsored by every member of the Texas Delegation along the proposed I-69 route removed from federal law a requirement that completed highway segments must be connected to an existing interstate highway before they could be added to the Interstate Highway System.
The Transportation Commission also designated a five-mile section of US 59 freeway on the southwest side of Texarkana as Interstate 369.  The three-digit I-69 spur designation will eventually be given to the entire 115-mile section of US 59 from Texarkana to a point near Tenaha in Shelby County.   This is necessary because the planned national route for I-69 leaves Texas following US 84 near Joaquin and heads northeast into Louisiana and southeast Arkansas.
Interstate 69 in Texas is being developed as a series of incremental upgrades to existing highways following US 59 from Texarkana to Houston and south to Victoria.  In South Texas there will be three branches of the I-69 System including US 59 leading to Laredo, US 281 south to McAllen, and US 77 from Victoria to Corpus Christi and on to Brownsville.
The first 6.2-mile section of I-69 is on the western edge of Corpus Christi and was signed in 2011.  A 35-mile section of the Eastex Freeway became I-69 in 2012 and a 28-mile section of Houston's Southwest Freeway became I-69 earlier this year.
The 11-mile section of US 59 through downtown Houston is under engineering review by the Texas Department of Transportation and the Federal Highway Administration.  It is anticipated it will be added to I-69 within the coming year.
TxDOT has programmed a total of $742 million in funded I-69 route projects to be completed over the next few years.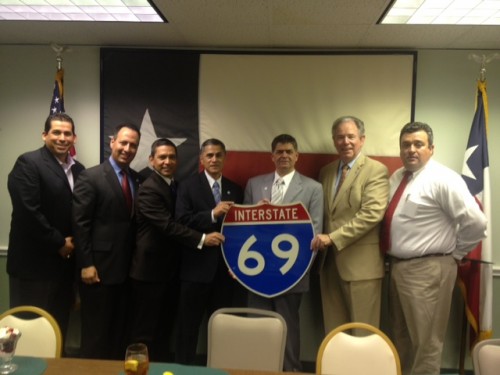 Over 100 miles of Valley highways to be designated interstate By Steve Taylor
WESLACO, May 30 – Rio Grande Valley residents will soon have a new interstate name to learn and it is not I-69.
U.S. 83 from Harlingen to Mission is going to be designated I-2 in the summer because the 47-mile stretch of road is up to interstate quality. At the same time, U.S. 77 from Brownsville to Raymondville will be designated I-69 East and U.S. 281 from Pharr to Edinburg will be designated I-69 Central.
Please click here to read the full article, courtesy of the Rio Grande Guardian.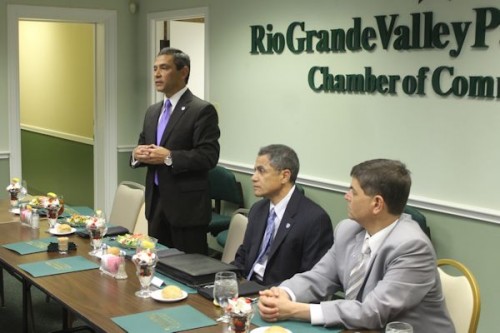 Importance of Freight Stressed in Washington
I-69 will provide a freightcorridor needed to link border ports of entry with seaports and inlandcommercial centers.
That was just one of themessages delivered by a delegation of 13 Alliance for I-69 Texas leaders who madethe rounds in Washington, D.C., on May 15 and 16.   They were joined by Jeff Austin III, a member of the TexasTransportation Committee.
There were a total of 18meetings with members of Congress along the I-69 route and with keycongressional committee staff to further advance the I-69 project.  Theywere able to point to substantial progress being made in funding I-69 projectsand securing official interstate designation for completed freeway sections onthe Texas route.
The group stressed that I-69is critical to the continuing development of the state and the nation's freightsystem.  They noted that all ten Texasdeepwater ports and numerous shallow-draft ports and terminal on the IntracoastalWaterway are served by the I-69 route.   Long-haul interstate freight connections will be improved once I-69 iscomplete.  There are two dozen majorrailroad truck-rail intermodal facilities near the multi-state I-69 route.
They also made the point thatthe six South Texas border crossing in Cameron, Hidalgo, Starr and WebbCounties combine to make up 50% of the truck crossings on the entire US-Mexicoborder.
Another of the messagesdelivered was to emphasize the key provisions of MAP-21 that should bepreserved or enhanced in the next federal transportation authorizationbill.  These include environmentalstreamlining, program consolidation to provide greater state flexibility,  continuation of innovative financing authority, passage of a full five-yearbill, and development of a National Freight Plan to direct federal investment.
In addition, the delegationmet with officials at US DOT to discuss the status of I-69 and the department'sdevelopment of the National Freight Plan called for in MAP-21 passed in 2012.